RIKEN GENESIS CO., LTD. (the "Company") think, proper handling of personal information are indispensable for people are respected as individuals Under the philosophy of individual respect for personal information.
Additionally, the Company contributed to the research, including PGx (pharmacogenomics) and cancer region by cutting-edge gene analysis technologies, promote the implementation of personalized medicine (order - made medical treatment) to the medical field by the genetic analysis technology, We continue our commitment to improve people's QOL (quality of life). In these gene analysis activities, protecting personal information is a very important issues for the proper management of personal information and the Company recognizes that our responsibility to the public.
The Company establishes the policy on protecting personal information established as follows, to familiarize the officers, employees and staff are working to protect personal information.
1.Handling of Personal Information
The Company to acquire personal information, to clarify whether the purpose of use and provision in advance, with the agreement of the person using the right within the scope of the purpose and take measures for no purpose outside use.
2.The safety management
The Company will strive to secure management of personal information by taking preventive measures ensure on leakage of personal information that we handle, loss or damage.
Also, to rapidly corrective measures in the event of a crisis.
3.Call Center
The Company handles complains and consultations concerning the handling of personal data appropriate and to the quick correspondence.
4.Compliance with Laws and Regulations
The Company will comply with the standards of guidelines, other laws, and regulations specified by the Japanese government for the handling of personal information.
5.Improving the system for protection of personal information
The Company continually review and strive to improve personal information protection management system. in order to maintain and improve the personal information protection system.
Established on November 24, 2017
Last revised on April 01, 2021
RIKEN GENESIS CO., LTD.
Kenji IWAKABE , President and CEO
About the PrivacyMark
RIKEN GENESIS was certified and granted the PrivacyMark by JIPDEC on Oct 10,2020.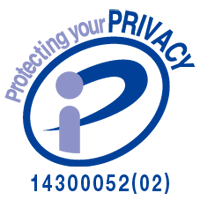 PrivacyMark is granted certificate for private enterprises that take appropriate measures to protect personal information.
If you have any questions concerning personal information, please contact below.
Personal information contact : PMS Secretariat
Tel: 03-5759-6041
Fax:03-5759-6043
E-mail:pms@www.rikengenesis.jp