From the measurement of genetic biomarkers in each phase of drug development to the development, application for regulatory manufacture, and marketing of in vitro diagnostic reagents including companion diagnostic reagents, we will deal with the situation in one stop.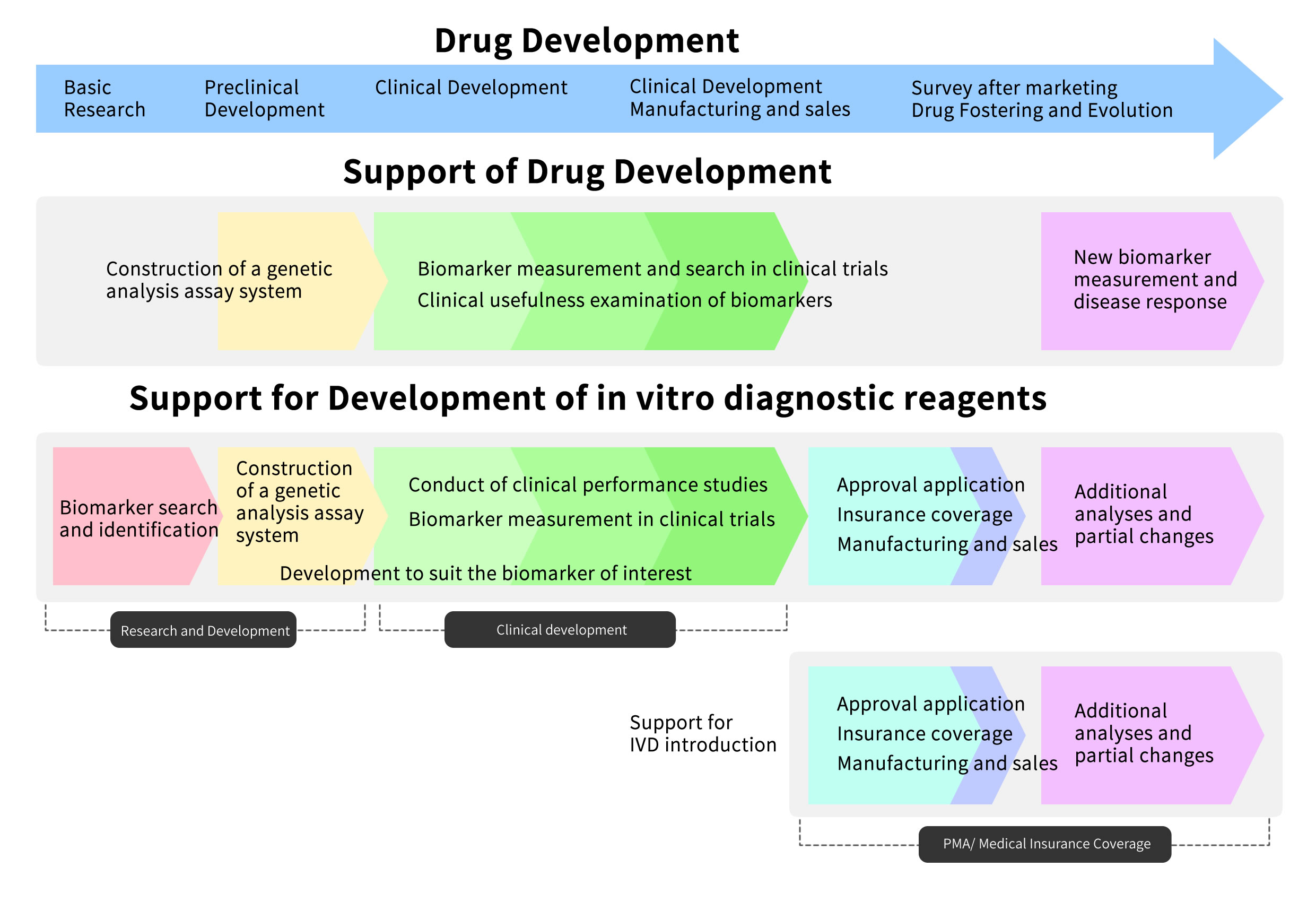 ※1

Research and Development

We propose and develop Assays suitable for biomarker detection from a wide perspectives.


Liquid Biopsy sample 、tissue sample are availble
NGS 、nCounter 、digital PCR 、high sensitivity PCR using BNA

Operation would be available according to CAP/CLIA criteria, RG Quality Assurance Standards, etc.


※3

Pharmaceutical affairs application / insurance application

Staff with extensive experiences with gene-related IVD applications will work on that.


Development of IVD(includes companion diagnostics)
SUPPORT CONTENT
RikenGenesis provides a variety of services appropriate for each phase of drug development.
We would like to measure the genes associated with our drug pipeline. Are there any good methods?
We would like to comprehensively analyze the genetic mutation concerning the development pipeline.
We would like to analyze the hot spot mutation of the cancer comprehensively.
We would like to analyze the gene abnormality using liquid biopsy.
We would like to analyze genes related to cancer immunity.
RikenGenesis investigates trends and propose an assay system that is suitable for your analysis.
Genetic Analysis Using Next-Generation Sequences (NGS)
CfDNA NGS analysis
Exhaustive Cancer gene mapping
You want to measurement a biomarker, but do not have a system.
We would like to include a genetic measurement targeted liquid biopsy in a clinical trial.
We wanted to expression analysis of particular genes in FFPE samples stored for a long time.
RikenGeesis is available seamlessly from construction of measurement system to measurement.
RikenGenesis provides service for construction of a measurment system to clinical trials (NGS, dPCR)
Expression analysis using nCounter custom panels
Is it possible to develop a gene measurement system constructed in a clinical trial as a companion diagnostic agent?
We are involved in the evaluation of assay systems, setting-up of clinical performance tests, preparation of submission manufactures for companion diagnostic reagents, application for approval, and marketing.
List of In Vitro Diagnostic Reagents Approved on We
I would like to introduce overseas approved diagnostic agents into the Japanese market.
RikenGenesis supports as Marketing Auholication Holder (MAH) or the Designated Marketing Auholication Holder (DMAH) of in vitro diagnostics.
Flow