BNA amidites
Product name: 2',4'-BNA
NC
(N-Me) β-Cyanoethyl phosphoramidites

Structure: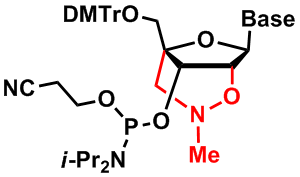 Volume: 0.25 g, 0.5 g, 1.0 g

Price:Contact us

Product name: 2',4'-BNANC(N-Pac) β-Cyanoethyl phosphoramidites

Structure: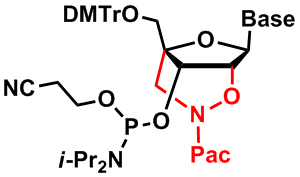 Volume: 0.25 g, 0.5 g, 1.0 g

Price:Contact us
BNA oligonucleotides
BNA oligonucleotides can be purchased from the following companies.
●Bio-synthesis, Inc.
E-mail:info@biosyn.com
Tel: 972-420-8505, Toll Free in USA: 1-800-227-0627



BNA-related products
| Product/Service Name | Description |
| --- | --- |
| BNA™ Clamp Enrichment Kit EGFR/KRAS/NRAS/BRAF | Primer set using BNA clamping technology |
| BNA™ Real-time PCR Mutation Detection Kit Extended RAS | Somatic cell mutation detection kit using BNA clamping technology |
| LBx™ probe | Digital PCR probe kit for Liquid Biopsy |
| LBx™ series | Services that can monitor tumor genomic status in liquid biopsy samples using probes, digital PCR, etc. |
Notice regarding BNA™ Products
BNANC monomers and BNANC oligonucleotides ("Product(s)") can be used for research purpose only. RIKEN GENESIS CO., LTD. prohibits using this Product for purposes other than research (including commercial purposes or diagnostic, clinical or therapeutic purposes) and reselling the Product without our permission. RIKEN GENESIS CO., LTD. shall not be responsible for any legal liability arising from using the Product for purposes other than research.
It is the responsibility of the customer to determine whether or not patents and/or any other intellectual property rights held by third parties restrict the usage of the Product for a particular purpose, and RIKEN GENESIS CO., LTD. Assumes no responsibility for damages or any other legal liability arising from infringement of intellectual property rights of such third partyies.
The Product and some of its usesare protected by Japanese patentNo.4731324 and No.6242336 and one or more of their corresponding foreign patents. Your purchase of the Product does not grant you any license to these patents except usage for research purposes. any license under these patents shall not be granted. Any usage of the Product for the purposes other than research requires a license from RIKEN GENESIS CO., LTD.
"BNA" and "LBx" are trademarks or registered trademarks of RIKEN GENESIS CORPORATION in Japan and other countries.

【Contact Details regarding BNA™ Products】
●RIKEN GENESIS CO., LTD.
Art Village Osaki Central Tower 8F 1-2-2 Osaki, Shinagawa-ku, Tokyo 141-0032, Japan
TEL: +81 3 5759 6042 FAX: +81 3 5759 6043
E-mail:RGK-bna@rikengenesis.jp